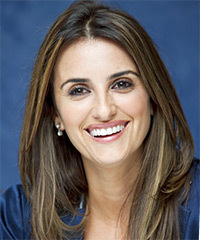 Simple yet smooth was the main aim for this hairstyle. Jagged cut layers through the edges gives this look a little movement and creates a weightless finish. Highlights were added to the top of this 'do to add spark and contrast.
This type of full body long hair can be easily created by adding hair extensions throughout, mixing in various highlights and lowlights for a multi-dimensional finish. No longer does one have to wait years for hair to grow this long. Now it takes just a few hours to get this look.
Hair extensions can be quite expensive and they require a lot of attention. Rushing out to get hair extensions without thoroughly researching them is not a good idea. Follow the checklist below if you want to get hair extensions.
Checklist for getting hair extensions
Below is a list of steps to take that will get you on your way to getting long, fabulous sexy hair. Remember that hair extensions should not be an impulse purchase. You should educate yourself and be prepared to evaluate several different hair extension methods at different salons.
Take hair extension suitability test and add up your score. See Suitability Test
Try on a long hair style. This Hair Imaging program allows you to upload your own photo and try on hair styles. Maybe you won't even like the way you look. Try it on first- SEE DEMO to Try on Hair Styles
Read all the sections on this site: Hair, Methods, Costs, Selecting a stylist, Homework, Maintenance, Issues
Look at each of the before/after hair extension photos and read about what was done.
Read about all the different methods for attaching hair extensions. Research all the different companies that offer hair extension methods. Hair Extension Methods
If you have made it this far and still want hair extensions, start looking for a stylist that offers the hair extension method you are comfortable with.
Schedule your hair extension consultation. Prepare for the consultation. Know what questions to ask, what the stylist should be doing during the visit.
Compare your notes from each hair extension consultation. Write a pro and con list for each one. Do your Homework!!
Schedule your consultation and go get beautiful long hair!!!!