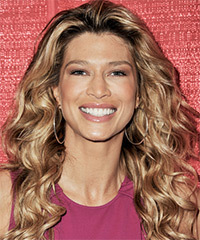 Gorgeous layers cut around the back and sides enhances the wave and gives this long hairstyle plenty of bounce and body for a full bodied finish. Highlights are added to the front and top to add light and spark which is great for contrast.
Hair Extension Consultation
SEE NEXT Selecting a Hair Extension Stylist
When you start imagining yourself with long, beautiful hair, you may begin to get very excited. It will be very easy to get distracted from the details that will be covered in the hair extension consultation.
Our advice to you is: Be prepared. Knowledge is power!
Getting hair extensions is not like getting hair color or a hair cut. It is a very intense service that can greatly affect the health of your hair for years to come. Be smart and make the right choices or you may end up regretting your decision to get hair extensions.
You should NOT get hair extensions on an impulse decision. If you feel pressured at all to make a decision right then and there---i.e. the sale we are having ends today…. Then you should be very cautious. Maybe the salon or stylist doesn't want you to do research or check things. Take your time, evaluate details, do your research, get a second and third opinion and then make your decision.
Being fully prepared for your hair extension consultation will save you time, money and aggravation in the long run. We have made a checklist for what should happen at the consultation, what you should ask your stylist and what you should do after your consultation (Yes there is some homework to do!!)
Some stylists will charge a small fee for the consultation and apply it to the cost of the hair extensions. Although free consultations are a great thing, you should consider that a stylist does not work for free. Don't schedule a free hair extension consultation unless you are serious about hair extensions.
Each stylist will have different procedures for the consultation and there are several things that should happen regardless of the stylist or the salon you visit.
Here is a checklist of what the stylist should do at a hair extension consultation:
THE STYLIST SHOULD…..
Check condition of your scalp: The condition of the scalp can be crucial to the success of some hair extension methods. An overly oily scalp will break down the adhesive materials of some methods. Also, if you scalp is irritated, you may have issues with extensions.
Check condition of your hair: Is your hair overly processed? Is it brittle, damaged in any way? Some stylists do a tension test, where they will take one or two hair strands and pull firmly on them. The purpose of this test is to see if your hair is strong enough to hold the human hair extensions.
Ask about your hair care habits: How frequently do you shampoo/condition? Do you perm/color your own hair? How much time do you spend styling your hair every day? What hair care products do you use?
These are all important considerations for hair extensions. If you don't take care of your own hair, then chances are you won't care for even longer hair.
Ask about your lifestyle: Do you swim often? Exercise regularly? Do you wear your hair up in a pony tail often?
Ask about your hair style desires: Why do you want hair extensions? What length and color are you looking for? How will you style the extensions?
After you get hair extensions, you must have your hair cut and styled the way you want.
Ask about your health: Are you on any medications? Are you suffering from Alopecia, or severe hair thinning? Some medications will interfere with the hair extension process
Ask about your sensitivities: Are you sensitive or allergic to anything? There have been cases where clients have allergic reactions to the products used for hair extensions
Discuss how hair extensions are maintained: The stylist should cover Do's and Don'ts and maintenance involved for hair extensions. Some stylists will provide you with a written maintenance contract.
Discuss details of putting in extensions: How exactly are the extensions attached, where the hair comes from, how long it takes and how often you will need to have them maintained. What is the name of the method that they will be using for your hair. Why is that the best method for your hair.
Explain the costs: Details of how much everything costs. How often you will need to come in for maintenance visits, How much the hair cost, installation cost, What is covered exactly in the total price. If you have several extensions fall out after a few weeks, will the stylist put them back in for no charge, etc.
ASK THE STYLIST CHECKLIST
How many hair extension clients have you had?
Are you certified (some methods do not require certification). Ask to see a copy of the certification.
What training have you done for hair extensions? Some methods do not require any training and offer instructional videos. If the stylist has not received official training for hair extensions, you should look very closely at their work and amount of time they have been doing hair extensions
Can I see some before and after photos?
Can I have the names and numbers of several of your hair extension clients? (Some stylists will say that there clients are confidential and therefore cannot give you any names or phone numbers Maybe they are famous people, etc.) You should consider that a stylist that trains for hair extensions will probably not come out of training to do a 'famous persons' hair extensions. There should be at least 2 or 3 client references that the stylist can give you.
What sort of guarantee do you offer? Is the hair guaranteed against tangling/matting and what happens if all the extensions fall out after a few days, or even worse if your own hair falls out with them.
You should know upfront what you are getting into. Know what you will be charged for, what is included and most importantly—what is not included.
Ask how any issues are addressed. We have heard of salons not returning phone calls after a major issue with hair extension applications. Find out now if this is a salon that you can trust!!
What type of hair is used?
If you color your own hair every month, ask if that will be okay with the hair extensions.
What can go wrong with the hair extensions? Have any of his/her clients had any issues with their extensions? What can you expect
Has anyone ever filed a complaint about your services? If so, why? If the stylist denies that any complaints have been filed and you know from your research (Board of Cosmetology) that there have been complaints, you should look for another stylist.
Ask the stylist about putting your hair in a pony tail— sometimes the point of attachment is very visible if you pull your hair up.
Ask if he/she can attach one extension to your hair so you can get a feel for what they will be like.
Ask where the human hair is ordered from, how long the stylist has been ordering hair from said company and what sort of guarantees there are concerning the hair.
RED FLAGS- BE very cautious of any of the following:
There are several RED FLAGS to be aware of when it comes to hair extension consultations. Be extremely cautious about selecting a hair extension stylist if any of the following take place.
The stylist spends the majority of the consultation time bad-mouthing or bashing other stylists and other hair extension methods. If a stylist does quality hair extensions and has years of experience, then he/she will spend the consultation time telling you about what he/she has to offer and why a particular hair extension method will work for your hair situation.
Stylist does not evaluate your hair or scalp at all. Hair extensions require healthy natural hair to stay attached. If your hair is not healthy, is very frail, then the weight of the added hair extensions could cause your natural hair to fall out—permanently. Not every hair extension method is good for every person. There are some methods that will work with damaged hair.
The stylist refuses to give you ANY references or show you any before/after photos. How do you know if they have ever attached a single extension?
The stylist only accepts cash as payment. A reputable salon will accept major credit cards.
The stylist has a messy, unorganized work station that looks unclean. Go with your first impressions here. Hair Extension services requires order, organization and above all--sanitation.
The stylist says that no maintenance is required and that you can just come back in 6 months to have them removed. A lot of the damage to natural hair comes from wearing hair extensions for too long (see above section on How long do the hair extensions last). Hair extensions are not a 'just put 'em in and go' type of service. They require regular maintenance for best results and the health of your natural hair.
SEE NEXT Selecting a Hair Extension Stylist