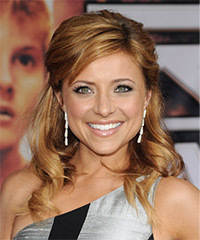 Christine Lakin looked gorgeous at the "Race to Witch Mountain" world premiere with this sassy look. Her mane was pulled half back, which allowed her length to drape over her shoulders, and her trade mark copper locks were spiced up with golden tones to bring out the color of her eyes.
Selecting a Hair Extension Stylist
SEE NEXT Hair Extensions Maintenance
CALL every one of the client references that your stylist has given you. Ask probing questions, such as: Are you happy with your hair extensions? How long have you had them? Why did you select this stylist? Have you had any problems with them falling out? Does the hair tangle or matte? Do you have to spend a lot of time maintaining them? Do they give you a headache? How many extensions did you have put in? (Too many extensions can lead to stress on the neck and can give you headaches.) Do you plan to keep them in for long? What other hair extension methods did you consider?
Double check that this stylist is certified in the method he/she will be using (especially if you did not see an actual copy of the certification in that stylists name). Some hair extension companies have salon locators, or toll-free numbers and it is very easy for you to verify their credentials.
We have heard of trained certified stylists actually training other stylists or even assistants to do the method. In most cases, training and certification should come directly from the hair extension company.
Check with the Better Business Bureau to see if any complaints have been filed against the salon
Check with the State Board of Cosmetology to see if any complaints have been filed (We have included links to all of the state boards. You can look up licenses for stylists and salons on many of the sites to find out if any complaints have been filed against them)
While you are on the page with the State Board websites, verify what is required to do hair extensions in your state and make sure your stylist has met the requirements
Read any maintenance agreement or service agreement contracts thoroughly---even the fine print. In some cases any warranty or guarantee will be void if you do not follow specific steps.
Weigh the facts: Write a positive/negative list for the extension method.
Costs: In general, you get what you pay for. If you go for a cheaper method, you will get a cheaper, lower quality method (in most cases). There are exceptions out there. Good quality human hair is expensive.
Maintenance: If you are looking at costs, be sure to include maintenance costs. Will you have to buy special shampoos or hair care products? What are the costs to have them removed and re-attached? In some cases you have to buy new hair each time. The costs (and time) for these methods can be very expensive if you are looking at annual (continuous wear) costs.
Affect: Will they damage your hair? Read all you can about the hair extension method your stylist will be using. Go to forums and read about any problems with this method.
NOTE: All hair extension companies claim that their method of applying and removing hair extensions is Non-Damaging to the natural hair. You need to be pro-active and check it out for yourself.
Damage: You can damage your natural hair by wearing hair extensions. Period. You need to be aware of this fact.
When can damage occur?
*During the attachment of the extensions. A stylist that is not trained properly or does not have appropriate experience to attach extensions may attach the extensions improperly, causing damage.
*Improper maintenance. Your stylist should give you written instructions on how to take care of your new hair extensions. These instructions should include dos and don'ts and basic care info. If you do not follow these instructions you could damage your hair. I.e. You have synthetic hair extensions and your stylist told you not to use a flat iron and you went ahead and used one.
*During the removal of the extensions. Hair extensions should never be pulled or yanked out of your hair. This will definitely cause damage.
*The extensions were left in too long. The longer you keep the extensions in, the higher probability of damage.
SEE NEXT Hair Extensions Maintenance