Types of Hair Used 3 Continued
Hair Type 1 |Hair Type 2 | Hair Type 3 | Attachment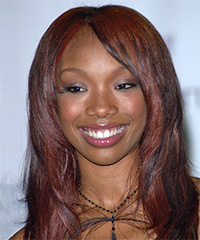 This is an eye catching purple 'do which is guaranteed to get you attention. Sliced angled layers have been cut around Brandy's face to achieve a round look and are easy to maintain with regular trims.
Different colors of extension hair can be attached for a very modern look.
European, Russian Hair
The hair is small in diameter and comes in many different textures and colors. Some European and Russian women do not process their hair and it is in excellent condition and suitable for hair extensions. European and Russian hair is in short supply and will be higher priced than most other hair.
Texture
Human hair comes in many different textures. Some stylists even blend different textures for a more natural look. Some textures available: Wavy texture, Curly texture, Straight texture, . Synthetic Fiber Hair
If you are uneasy about using human hair or are overly concerned about where it actually comes from, then you can still get hair extensions using synthetic fiber.
There have been a lot of advancements in the production of synthetic fiber hair and generally speaking it is very easy to care for. The types available include:
Plain Synthetic Fiber (PP Fiber)-cheapest type of fiber
Kanekalon Fiber-a type of hair that can be used with curling irons. Costs 2-5 times as much as plain synthetic fiber.
Toyakalon Fiber which is very similar to the Kanekalon Fiber. Costs 3-6 times as much as plain synthetic fiber
Synthetic fiber hair extensions are sometimes recommended for hair loss or thinning patients as the synthetic fiber hair is about half the weight of human hair and therefore reduces the amount of tension on your natural hair and scalp. Synthetic fiber hair suppliers provide a variety of colors and textures for hair extensions so that matching your color and texture is not a problem.
Some of the drawbacks to synthetic fiber hair are that it cannot be chemically treated-- i.e. color, perms etc, and some of the cheaper grades of synthetic fiber hair cannot be styled with curling irons or any hot appliance. Most synthetic hair can be styled with hot rollers since they operate at a lower temperature than most appliances.